IFAI Specialty Fabrics Expo 2013 Exhibitor Preview: Phifer Inc.
August 20, 2013 — Phifer Incorporated, leading global manufacturer of sun control fabrics, indoor/outdoor performance fabrics, insect screening and engineered meshes and textiles, returns to the 2013 IFAI Specialty Fabrics Expo. A master weaver for more than 60 years, Phifer specializes in the manufacture of innovative, high performance and sustainable fabrics approved for use in both commercial and residential applications. Visit Booth #4412 for more information on the following new products:
SheerWeave Fabrics with Acoustical Properties
— SheerWeave BASIC 3%, Style 2500 and Performance + Style 2500 fabrics limit indoor noise pollution for an added acoustical benefit. These fabrics have excellent Noise Reduction Coefficient (NRC) values ranging from .50 to .60 for their ability to absorb sound. The performance of these SheerWeave fabrics peaks depending on the type of sound they are exposed to. In fact, SheerWeave BASIC 3%, Style 2500 and Performance + Style 2500 fabrics have each been shown to display increased absorption among human speech frequencies, making them even more effective at controlling sound in environments, such as office settings, in which privacy and noise reduction are key. Within the frequencies of human speech, these three fabric styles achieved absorption values up to .83.
SheerWeave Style 4000, 4100 and 4400 made with DOW ECOLIBRIUM™
— Phifer ushers in the next generation of green window shading solutions with SheerWeave Style 4000, 4100 and 4400 series fabrics made with sustainable DOW ECOLIBRIUM™ Bio-Based Plasticizers. ECOLIBRIUM is made from 98% renewable feedstock and offers a phthalate-free alternative to shades constructed with traditional plasticizers. Redefining vinyl sustainability, these new compounds meet tough regulatory requirements, providing a reduced carbon footprint and compound that can be recycled in a standard vinyl stream. DOW ECOLIBRIUM ™ Bio-Based Plasticizers also reduce greenhouse gases by 40 percent versus traditional plasticizers. Phifer is the first and only window coverings manufacturer with exclusive DOW ECOLIBRIUM™ in its fabrics.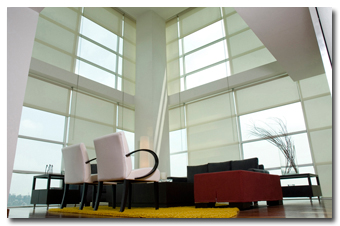 SunTex® 95
— Phifer introduces SunTex 95, designed specifically for exterior roller shade applications. A vinyl-coated polyester fabric, SunTex 95 is thinner and lighter weight than traditional SunTex fabrics and is a full basketweave. With a 5 percent openness factor, SunTex 95 offers increased heat and glare control, stopping approximately 95 percent of the sun's hot rays for a cooler, more comfortable outdoor environment. By reducing the sun's penetration to interior rooms, these shades can lower cooling demand, leading to less energy consumption. SunTex 95 fabrics are infused with Microban® antimicrobial product protection for an added level of defense against microbes such as mold and mildew that can damage the shades.
Designed Fabrics
— Phifer's vast line of indoor/outdoor, high-end performance cushion and sling fabrics, including the newest stock line additions, will also be on display. Featuring coordinating hues in new and intricately-woven jacquards, stripes, solids, classic and contemporary designs, the Designed Fabrics collections have the look, stability and strength needed for indoor and outdoor performance and appeal. Phifer's Designed Fabrics can also be used in awning, umbrella, pillow and new and unusual exterior or interior fabric applications.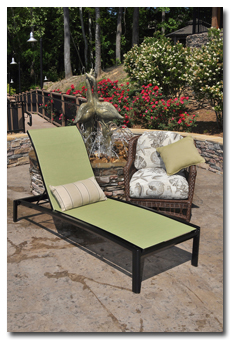 Posted August 27, 2013

Source: Phifer
Advertisement