Mycelial Entanglements
In Ecovative's EcoCradle® packaging materials, a tangled web of mycelium binds together renewable waste materials in a process that can be used literally to grow composite products that can be composted when they are no longer needed.
Janet Bealer Rodie, Managing Editor
Ecovative Design LLC, Green Island, N.Y., is using an innovative method to bind materials together in a composite construction: Instead of infusing the base materials with a polyurethane resin, it is binding them together in a fibrous network of mycelium — microscopic fungal filaments. With eight miles of fiber growing through a single cubic inch of material, the mycelium acts as a sort of natural glue, as the company describes it. The composite end products — including packaging, insulation, automotive and apparel materials, among others — are completely biodegradable because the base materials, or feedstocks, are derived from agricultural byproducts such as cotton gin waste, seed husks, plant stalks and other such waste materials. Yet, they are stable, mold- and water-resistant, and hypoallergenic; and are naturally flame-resistant (FR), depending on the feedstock blend. They also have been shown according to various ASTM tests to be compliant with relevant performance standards.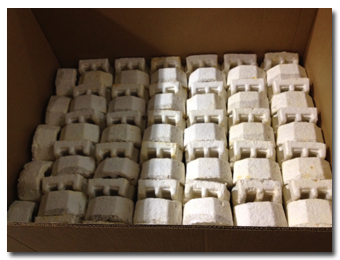 EcoCradle® electronics packaging is covered with a cotton nonwoven to provide a "T-shirt-soft" surface to protect the product surface.
Ecovative Design was founded in 2007 by CEO Eben Bayer and Chief Scientist Gavin McIntyre, who had begun developing the technology as part of a student project at Rensselaer Polytechnic Institute in Troy, N.Y. The original objective was to develop a biodegradable replacement for rigid polystyrene foam insulation. Bayer had grown up on a farm that produces maple syrup and had observed how mycelium binds together the wood chips used to fuel the boilers to make the syrup. From that inspiration, he and McIntyre turned to exploring how mycelial growth could be controlled to make sheets of insulation. They soon came to realize that many other end products could be developed as well, including packaging materials to replace polystyrene foam.
"It's a whole new paradigm of materials," said Sam Harrington, the company's marketing director, who worked on the project as a student with Bayer and McIntyre at Rensselaer and helped grow the company. "People have used fungi for food and medicine, but no one has really appreciated their material properties. You can do some really remarkable things with fungi - we're just starting to scratch the surface of what's possible."
Speaking about product development, he continued: "Although the early research was on insulation, the core commercial development has been on packaging materials, which have a greater environmental impact because they are used for just a few weeks and then are thrown away." The company's packaging products, marketed under the EcoCradle® Mushroom® Packaging brand, are being used by companies such as Dell and a growing number of other Fortune 500 companies.
At Ecovative's laboratory, the mycelium is grown using various agricultural byproducts as feedstocks. "Stripper cotton gin waste is one of our best feedstocks and makes some of our strongest products," Harrington said. "Depending on the material properties we're trying to achieve, we will grind up the material in different ways before we grow the product. We also have some biological methods to control how the mycelium grows. We can grow it really fast to have a rough, organic look, or at a different rate to have a really soft, velvety 'T-shirt-soft' surface, which can be really important if you have high-gloss items or electronic products that can be scratched easily."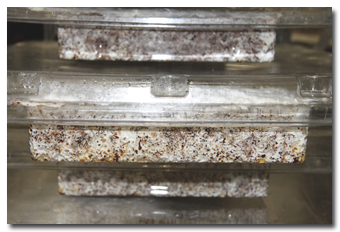 Cleaned and prepared agricultural byproducts are inoculated with mycelium and placed in a form, which is left in the dark for a week to allow the mycelium to grow through the material.
To make the materials, the cleaned and prepared agricultural byproducts are inoculated with mycelium and placed in a form, which can have any specified shape. The form is simply left in the dark for a week to allow the mycelium to grow through the material, and then it is removed from the form. If a soft, velvety surface is specified, a cotton nonwoven fabric can be applied to the surface of the formed product, and the mycelium will spread into the fabric and bind it to the inner form. Finally, the formed product is heated and dehydrated to stop the mycelial growth.
Most of the company's products are rigid in construction, but it is also developing soft, flexible materials for applications such as seat cushions and shoe soles. "We are looking at cotton wovens and nonwovens for those applications to make them more flexible, resilient and durable," Harrington noted.
In the apparel area, Ecovative is working with Puma to develop shoe soles that would go into a compostable athletic shoe.
In the automotive area, the company is looking for a development partner, either one of the big car makers or a tier 1 supplier. Potential products include impact bolsters in bumpers, acoustic and other insulation, and foam for seat cushions.
"The average car has about 30 pounds of foam, which today is all plastic," Harrington said. "There are a lot of mandates, especially in Europe, that a car must be a certain percent recyclable or compostable. You can't compost plastic foam; plus, there are FR chemicals and other chemicals added."
In the few years since Ecovative's beginnings in the Rensselaer Business Incubator, it has won numerous awards and development grants from public and private sources. It now operates a 25,000-square-foot pilot plant in Green Island, and plans are afoot to build a second plant in an undetermined location early next year. Harrington said the company also envisages setting up numerous small production facilities near its material sources and end-users.
---
For more information about Ecovative Design and EcoCradle® Mushroom® Packaging, contact Sam Harrington +1-518-273-3753; info@ecovativedesign.com; ecovativedesign.com.
---
September 2012
Advertisement