Outlast Technologies Announces New Partners
Boulder, Colo.-based Outlast Technologies Inc., developer of Outlast® temperature-regulating technology and phase-change materials (PCMs), reports several companies have selected Outlast technology for use in their apparel.

Magellan's International Travel Corp., a Santa Barbara, Calif.-based manufacturer and retailer of travel supplies, has introduced a line of women's Comfort Control sweaters in its Fall 2012 collection featuring Outlast technology. Motorcycle manufacturer Triumph Motorcycles Ltd., United Kingdom, has debuted a line of riding gear including jackets, gloves, and socks incorporating the technology. Italy-based apparel and accessories manufacturer Diesel S.p.A's Diesel® Jeans brand has introduced a piqué knit men's shirt, available at Barney's New York in Tokyo, featuring the technology.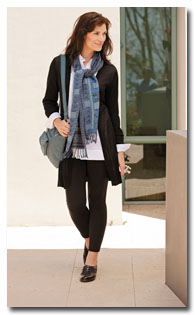 Magellan's Comfort Control Cardigan Features Outlast® technology.
October 16, 2012
Advertisement