Kornit Digital Opens Demo Center In Hong Kong
Kornit Digital Asia Pacific Ltd., Hong Kong — the Asia Pacific headquarters of Israel-based digital printing solutions provider Kornit Digital Ltd. — has opened a 2,500-square-foot demonstration center in its headquarters building to serve the company's textile and apparel customers in that region.

The new center houses state-of-the-art Kornit digital printers — including Kornit Breeze, Kornit Thunder and Kornit Avalanche DC Pro — along with a warehouse stocking digital inks and spare parts. Customers may visit the center to receive advice and training, observe demonstrations of Kornit's solutions, and conduct printing trials.

"The fashion market changes almost as quickly as the weather and trends such as e-commerce and enhanced shopping experiences have put the customer right in the center of the equation. Short-to-medium runs represent one of the fastest-growing opportunities in the industry today," said Eyal Manzoor, managing director, Kornit Digital Asia Pacific, noting that his company's solutions are particularly suited to the on-demand custom-made apparel market.

Activities surrounding the center's October 9 launch included a Digital Printing Technology Exchange Forum and an official opening ceremony attended by customers and dignitaries from the Asia Pacific region.

"Kornit garment printers enable fewer purges, better ink flow, better quality printing, built-in spray, better software and better color matching," said Joshua Singer, sales and marketing manager, New Pistol Clothing Pty Ltd., Australia, who was a keynote speaker at the opening ceremony. "The on-demand printing solution we use allows us to expand our business into new products areas such as customization, offering customers the ability to upload their own photos and add customized text."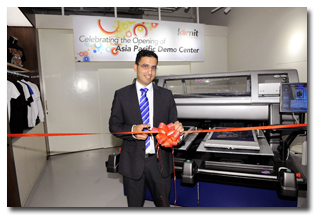 Eyal Manzoor, managing director, Kornit Digital Asia Pacific Ltd., cuts the ribbon during the opening ceremony for Kornit Digital's first demonstration center in the region.

October 23, 2012
Advertisement