Heytex Bramsche Establishes U.S. Subsidiary
Heytex Bramsche GmbH — a Germany-based manufacturer of technical textiles under the brand name HEYTex®, with subsidiaries in Germany and China — has established a subsidiary in Hendersonville, N.C.

Heytex Corp. will distribute the company's products in the United States which include coated and laminated textiles for large-format digital print media; textiles for tarpaulins, architecture and outdoor applications; and textiles for industrial applications such as automotive, biogas, plants, and military. Industry veterans Joe Trnka and Bruce Walker have been named regional sales managers for the new company.
"Maximum proximity to the market and our customers is the prerequisite for sustainable growth," said Heytex CEO Dr. Heribert Decher. "In particular on the important US market we want to make more efficient use of our potential from now on. Therefore, the establishment of the new Heytex Corp. run by experienced experts in this industry is a consequent step in connection with our global growth strategy."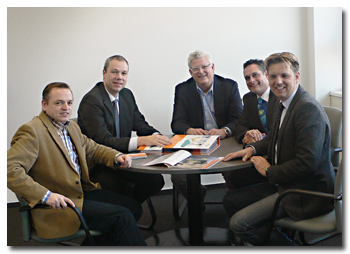 The Heytex management, from left: Arnoud Mekenkamp, director, sign sales; Dr. Heribert Decher, CEO; Joe Trnka, regional sales manager; Bruce Walker, regional sales manager; and Michael Kirk, senior director, sales and marketing.

May 29, 2012
Advertisement