ITMA Asia + CITME 2012 Exhibitor Preview: Bräcker, Graf, Novibra and Suessen
WINTERTHUR, Switzerland — April 23, 2012 — Bräcker, Graf, Novibra and Suessen - Experience the difference
The 4 companies Bräcker, Graf, Novibra and Suessen joined their sales forces, uniting the world's leading brands for the supply of technology components to the textile industry, forming the only global provider of components for all spinning technologies. At ITMA Asia the latest development to improve fibre yield and productivity will be presented.
Bräcker AG
Founded in 1835 as a family business, Bräcker AG soon developed as a specialist for key products in the textile industry. With the expansion to France in 1951, the foundation was laid for successful international development. Thanks to steadfast development of new markets early on, in particular overseas, Bräcker AG became a global market leader. The take-over of Gretener Yarn Carriers in 2001 and of BERKOL in December 2007 completed and strengthened Bräcker AG's product range.
New BERKOL® supergrinder
A totally re-engineered concept, based on experience with the very successful BERKOL® BGS machines and incorporating the latest electronics technology, as well as adapting to the latest requirements of today's spinning technology:
- the supergrinder concept is a modular concept
- the grinding capacity has been increased by over 50%
- grinding capacity of over 350 top rollers / hour
- storage capacity of 450 top rollers with 32 mm diameter- 10% less electrical power consumption
- user friendly touch-screen pane
l- multilanguage operation guidance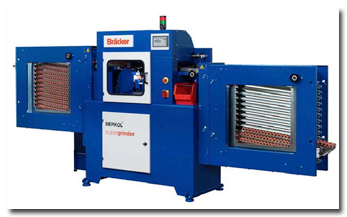 BERKOL® Supergrinder
TRITON Spinning-Rings for wet flax spinning
The TRITON surface coating combines abrasion and chemical wear resistance. TRITON rings are specially designed for the wet spinning of flax fibres over the full yarn count range.
The TRITON coating features the following advantages:
- smooth and even surface properties thus low end down rate
- long traveller life and excellent yarn quality
- high wear resistance against abrasion- long ring service life
- favourable price / performance ratio

30 Million TITAN Spinning Rings
Bräcker has been able to maintain its leadership position in spinning rings with our TITAN ring, of which so far more than 30 Mio pieces have been sold to successful spinning mills around the world.
Our continuous efforts in developing new travellers, in response to new requirements,continue to be successful and we constantly introduce new travellers to optimize productivity and efficiency of the most modern ring spinning machines.
Bräcker will also exhibit the proven accessories such as:
ORBIT spinning rings and the relevant travellers
PYRIT and ZIRKON travellers for especially demanding applications
Cost saving tools such as the Bräcker RAPID for easy and time saving insertion of travellers
The well known and appreciated range of BERKOL-Cots and Aprons

Graf + Cie AG
As a renowned partner supplying premium components for key processes in the short staple spinning industry and nonwoven applications, Graf is the leading manufacturer of metallic card clothing, stationary flats and flexible flat clothing, circular - and top combs for most major producers of carding and combing machines, roller cards as well as spinning mills. Graf provides added value to customers spotlighting convenience at work, superior performance and focusing on high quality yarn output.
Brand new: Hipro metallic wire
Thanks to innovative geometry, excellent material and first class processing, Hipro metallic card clothings ensure top performance and precision together with an exceptionally long working life. Hipro metallic card clothings are suitable for all standard man-made fibres in the nonwoven sector and also for wool. They can be used on the following rollers: doffer, worker,stripper and condenser rollers. These excellent, robust clothings are available with normal profile and as interlinked clothings.

Hipro Wire
Resist-O-top flexible flat clothing
The resist-O-top generation of flexible flat clothings for processing of cotton, man-made -,and regenerated fibres as well as for blends and swing applications is another of Graf's innovations with a noticeable impact in the market. The resist-O-top setting pattern favours the extraction of short fibres and trash as well as the elimination of neps. This flat series is progressively set without straight gaps between the rows of teeth. The wire dimensions for all C and M-types are selected with a difference of 5 numbers. The whole range of flats is available for all different types of cards.
New series of Graf circular combs: Ri-Q-Comb for Rieter E80 comber
The latest series of circular combs is exclusively designed for the new combing machine of Rieter type E80. The comb with a design that takes into account latest technological developments and requirements has a much enlarged combing area in excess of 130° and will be available in three versions. The range of the new combs is as follows: Ri-Q-Combi400 for short and medium staple, Ri-Q-Comb i500 for medium and long staple and Ri-QCombi700 for very long staple. The obvious benefit of the new series of combs to the customer is the marked improvement in quality and production!
Novibra Boskovice s.r.o.

Novibra is the leader in spindle technology and the only 100% in-house spindle maker.In 1988 the revolutionary HPS design changed the classical ring spinning and opened new prospects for spinning in speed up to 25 000 RPM. Till now this design maintains unbeatable position and becomes synonym for high speed spindle design.
The high performance of spindles on modern automated ring frames requires state of the art clamping device for an effective and reliable doffing.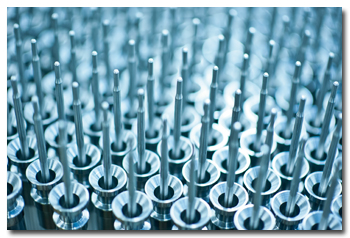 Novibra Spindles
The new Novibra clamping crown CROCOdoff uses centrifugal effect for opening and closing at defined spindle speed. Reliable clamping and yarn cutting brings considerable advantages, to the spinners, during doffing.

Spindelfabrik Suessen GmbH
Only recently Suessen celebrated its 90th anniversary. Since its foundation in 1920, the company has been of great value for the spinning industry by an immeasurable amount of innovations and developments with lasting effect and influence on the history of spinning. Suessen is a global supplier of technology components and conversions for the yarn manufacturing industry in ring, open-end and airjet spinning. Suessen EliTe®CompactSpinning System is the preferred compact spinning system for spinning mills the world over.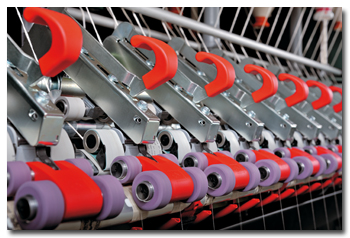 ELiTe® Compact Spinning System

Leadership in Compact Ring Spinning and Rotor Spinning Technology
We make considerable investments in continuous R & D, combined with applied research that is directly carried out at our customers' mills. This ensures that we are able to further develop our technical and technological components in both an uncompromising and resolute manner. In particular, we focus on universal applicability, improved yarn quality,increased service life, reduced maintenance and proven reliability in industrial application.
In ITMA Asia we focus the presentation to our customers on the following products:
EliTe®CompactSet V5
Worldwide we have sold over 5.500.000 units EliTe®Compact Spindles.
A new feature is the EliVAC-CDS - Central Duct Solution. The central suction duct is located on top of the ring spinning machine, the vacuum is generated by one motor with filter box. The main advantages are:
• Easy and fast installation
• No rotating drive shafts, pulleys, belts, bearings...
• No individual fans for groups of EliTubes
• Less energy consumption by approx. 20%
• Less maintenance required
• Fewer spare parts required
ACP Quality Package with new PINSpacer NT
The Active Cradle with the PINSpacer NT improves the drafting process by an enhanced inter-fiber friction in the main draft zone. The Active Cradle with flexible leading edge and optimised pin position
• improves the values of the most important yarn parameters and
• is suitable for all popular top weighting arms
CPS - Cot Protecting System
The new CPS - Cot Protecting System in man-made fibre ring spinning reduces the maintenance in the drafting unit by extending the top roller life time - an apron protects the delivery roller cot from wear:
• No grinding of delivery cots
• Constant and equal yarn quality over a long time

Premium Parts - Spinning Components and Spare Parts for Autocoro Rotor Spinning Machines.
We show the new type of
• SOLIDRING S43 3.6 for special applications and the
• SpinBox SE 9 Performance Kit
Posted on April 28, 2012

Source: Bräcker, Graf, Novibra and Suessen
Advertisement