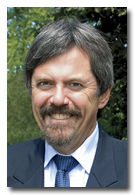 The Rupp Report: The Oerlikon Group Is Back On Track
Jürg Rupp, Executive Editor
Last week, OC Oerlikon Management AG, Switzerland, presented its annual results during a press conference. CEO Michael Buscher and CFO Jürg Fedier announced the results, which give some hope for a better and more prosperous future. Buscher mentioned: "These results demonstrate the success of our operational and strategic transformation. The changes we have made to improve our performance and develop key markets are an intermediate step to becoming best-in-class in our businesses, and to generating sustainable profitable growth — a multi-year agenda, in which 2011 marked an important milestone."

Remarkable Results
Indeed, the figures are quite impressive: The earnings before interest, taxes, depreciation and amortization (EBITDA) was higher at 605 million Swiss francs, compared to 278 million Swiss francs the year before. Remarkable is the net profit, which amounts to 224 million Swiss francs, compared to 5 million Swiss francs in 2010. Another important result is that the credit profile with net debt was reduced to 86 million Swiss francs; in 2010 it was 274 million Swiss francs. Referring to this fact, Fedier said: "Our financial position continues to strengthen. We further improved our credit profile by significantly reducing net debt in 2011 and we continued to generate strong operating cash flow." It was also reported that the group is evaluating refinancing options in order to reduce financing expenses and to diversify its funding sources. Below is a group overview of the main results:

Oerlikon Group Key Figures As Of 12/31/2011
(million Swiss francs*)

| | | | | |
| --- | --- | --- | --- | --- |
| | | | | |
| | | | | |
| | | | | |
| | | | | |
| | | | | |
| | | | | |
| | | | | |
| Cash flow from operating activities** | | | | |
| | | | | |
| | | | | |
*Exchange rate 12/31/2011: 1 Swiss franc = US$0.93855
**Before changes in net current assets
Source: OC Oerlikon Management AG

Oerlikon Textile
In 2011, Oerlikon Textile reported an EBIT of 183 million Swiss francs, which represents a margin of 9 percent. The company took in machinery and equipment orders totaling 1,977 million Swiss francs, lower than the record-high intake in 2010 totaling 2,509 million Swiss francs. The management cited lower second-half (2H) 2011 demand for natural fibers, due in part to higher cotton prices, as the main reason for the decrease in order intake. Nevertheless, it noted stabilized 2H demand at a more moderate level. On the other hand, the man-made fibers market remained high as a result of increased Chinese domestic demand after the Chinese government introduced policies to encourage a switch out of natural fibers. The segment recorded an order backlog totaling 1,053 million Swiss francs for 2011, compared to 1,197 million Swiss francs in 2010 — again, Fedier said, because of reduced demand for natural fibers — and its order book now extends into 2014. Sales totaling 2,037 million Swiss francs were 23 percent higher than in 2010. Growth was seen primarily in China, India, Europe, Turkey and South America. There was slight growth in the United States market, and Middle East markets were generally stable.
Simplified Structure
As already reported before, the segment structure with five business units (BUs) was to be simplified. In the meantime, five BUs have been merged into three, to emphasize the raw material, namely:
• Oerlikon Barmag and Neumag have merged into the Manmade Fibers BU;
• Oerlikon Schlafhorst and Saurer have merged into the Natural Fibers BU; and
• Textile Components remains unchanged.

Asia In The Focus Of Attention
As have other big companies, Oerlikon Group has focused its attention on Asia to be ready for even more growth opportunities in the region. The group reports China is now its largest location globally and accounts for 40 percent of Oerlikon Textile sales. Asia is expected to continue as that segment's most important market. Overall group 2011 sales in Asia increased to 49 percent of the total, with China driving that activity. There were slight changes in the proportion of sales originating from North America, which accounts for 15 percent, and Europe, 28 percent. The strong Swiss franc affected margins very slightly, as only about 10 percent of Oerlikon's cost base is denominated in that currency.
Future
Michael Buscher predicts a positive future. However, he notes, the global economic environment is uncertain and is difficult to predict. He projects profitability will increase with an EBIT margin of in the neighborhood of 11 percent. On the other hand, order intake and sales are expected to decrease slightly. For Oerlikon Textile, it is anticipated that further underlying performance improvements in 2012 will result in slightly improved profitability. Segment expectations include ongoing growth in Manmade Fibers, stability for Textile Components and decreased sales in Natural Fibers. Buscher is optimistic that "Oerlikon's high proportion of sales in Asia, China and India in particular should help offset declines in other areas."
March 13, 2012
Advertisement