An Industry Reassessment
Robert S. Reichard, Economics Editor
Revised government production estimates reflecting new benchmark data confirm that the U.S. textile and apparel industries haven't done all that badly over the past few years. In any event, it's now quite clear that the huge demand declines noted over the recent economic recession are over. But that's not to say that everything is coming up roses. For one, overall output has managed to recoup only part of its big 2008-09 decline. Mills, for example, have retrieved only about one-third of their losses — with downstream apparel makers lagging their pre-2008 levels by an even larger percentage. Moreover, recent advances in textiles have tended to be selective rather than across the board. Example: While production of basic mill products like fibers and fabrics have managed to post a sizable 25-percent increase since its 2009 low point, the same can't be said of more highly fabricated mill products like carpets and home furnishings, where the comparable advance is much smaller.

On a somewhat rosier note, however, this scenario could change. It's now likely, for example, that fabricated mill product recovery could accelerate a bit over the next few quarters, thanks to a gradually improving construction outlook. Moreover, some near-term pickup in apparel sales may also be in the cards — on a combination of lower consumer debt, slowly falling unemployment and modestly rising incomes.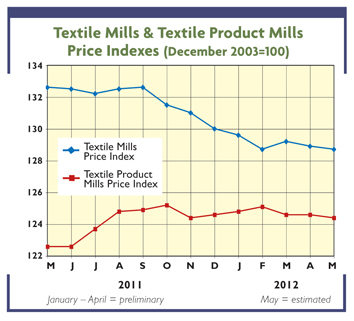 Improved Operating Rates
Capacity utilization numbers — production as a percent of rated capacity — also have been revised. And here, too, things seem to be looking better. According to the new estimates, some 70 percent of U.S. plant and equipment is currently being utilized. That's a fairly impressive improvement over the 55-percent low point hit during the 2008-09 recession. And this upward climb is expected to continue over the next few years. Credit two factors for this recent and expected improvement: the numerator of the utilization fraction — production — has been creeping up, while the denominator — capacity — has been declining. In fact, slippage in the latter number has been quite dramatic. Thus, the U.S. textile mill machinery and equipment base has dropped a sizeable 14 to 15 percent since 2008 — or some 4 percent at annual rate. True, at first blush, such contraction may not seem to be a plus. But zero in on the quality rather than the quantity of today's plant and equipment, and the picture begins to look a lot different.
More to the point: The influx of new state-of-the-art facilities, while clearly not fully replacing the shuttering of older, more obsolete ones, has made U.S. domestic mills a lot leaner and meaner — and in the process, more competitive and quite profitable. More on the textile mill earnings outlook next month, when new profit estimates become available.
A Changing Chinese Role
Meantime, some additional words on trade would also seem to be in order. Look to a few years ahead, for example, and Chinese imports could be much less of a threat than they are now. At least, that's what a new Boston Consulting Group (BCG) survey of more than 100 large U.S. manufacturers, including some textile and apparel firms, seems to be suggesting. The key finding: China's position as the default low-cost manufacturing base is beginning to erode — to the extent that more than one-third of surveyed companies now either plan to or are actively considering bringing back some of their Chinese production to the United States. Add in the fact that even today, those queried feel Chinese sourcing is a lot more costly than it appears, and it's easy to see why BCG thinks that Beijing could lose most of its cost advantage by as early as 2015. The principle reason, of course, is souring Chinese labor costs, which BCG says are rising 15 to 25 percent per year. But there are also other important factors pointing to changes in U.S. sourcing strategies — namely product quality, proximity to customers, and ease of conducting business.
Equally significant, the consulting firm says a shift away from China could also have some positive macroeconomic repercussions. Thus, less dependence on that nation, when combined with increasing U.S. exports — due to increased competitiveness with other developed nations — could by the end of the decade directly and indirectly create 2 million to 3 million American jobs, cut the U.S. jobless rate by 1 to 2 percentage points, and lower the U.S. non-oil-related trade deficit by 25 to 35 percent. If true, the oft-repeated prediction of a stagnating U.S. economy seems grossly overexaggerated.
June 2012
Advertisement
Related Files:
Click here to view Textile Barometers