Increased Productivity Through Constant Yarn Tension
Constant yarn tension improves not only product quality but also the productivity of existing equipment.
Kurt Niederer
It is well known that constant yarn tension in winding of yarn results in improved quality in textile processes. Another, less obvious, fact is that it allows higher process speeds for most applications, which means increased production without adding additional equipment.

This fact will be demonstrated on a warper operation.

For proper tension control in warping, two conditions have to be met:

A minimum tension is required to build a descent package even during the low-speed start-ups.
The yarn tension should not exceed a safe level in order to assure a minimum of yarn breaks and to prevent yarn damage.
In a conventional setup, these conditions customarily are met by the following:
setting the tension device — usually a disk tensioner — to the desired lowest tension for a descent package build; and
running the equipment at a speed that guarantees that the desired maximum tension is not exceeded.
Comparison Of Conventional And Constant Disk Tensioner Performance
Figure 1 shows how the maximum output tension — in this example, 100 grams — comprises the input and the added tension.
With a constant output tensioner, the tension is set to the maximum allowable output tension. It will be evident that the warper speed can be increased without affecting the output tension as long as the input tension from the supply package does not exceed the allowable output tension.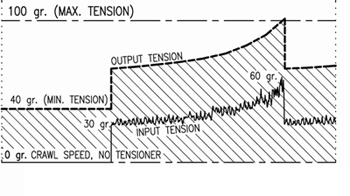 Figure 1: Conventional tension at 600 yd/min Figure 2: DisKN-Tension at 780 yd/min
Figure 2 shows how the output tension is constant, regardless of the variations in the input tension, and how the maximum input tension can be increased from 60 grams to 100 grams by increasing the warping speed from 600 yards per minute (yd/min) to 780 yd/min, a 30-percent speed increase.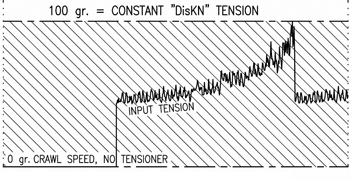 Figure 2: DisKN-Tension at 780 yd/min
If one assumes a 25-percent increase of productivity owing to the 30-percent-higher speed, appreciable savings in equipment costs can be realized. Suppose a mill requires five warper lines with conventional tensioners at 500 ends each. At 25-percent higher speed with constant output tensioners, only four warper lines for the same production are needed. Assuming a cost of $250,000 per line, the elimination of one line would result in savings of $250,000. Naturally, the higher cost of the controlled tension devices also has to be considered.

The greatest obstacle for taking advantage of this higher productivity as well as quality improvements has been the high cost and complexity of electronic, closed-loop tension devices. They easily cost several hundred dollars per unit, and many have shown to be sensitive to static electricity as well as extreme voltage spikes.

Mechanical Solution To Provide Constant Output Tension
A new, mechanical tensioner has been conceived that is capable of providing constant output tension at a fraction of the cost of the electronic devices. This DisKN-Tensioner, developed, patented and manufactured by the author, works according to a mechanical, open-loop method. It requires no electronic control; is not affected by heat, static or moisture; and runs completely stable at any speed and at any tension setting. It also uses no energy to operate, even when an optional central tension setting is used.
The DisKN-Tensioner is basically a conventional disk tensioner with two simple parts added (
See Figure 3
). Figure 4 shows in graphical form the individual parts with the compensator and the connector functioning as the mechanical open-loop control. Available accessories include central adjustments for whole creels, stop-motions, over-tension sensors, mounting brackets and anti-balloon disks.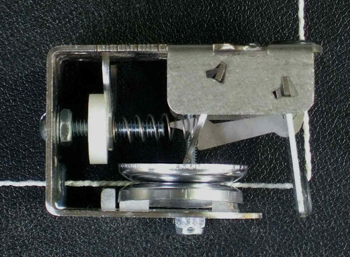 Figure 3: The DisKN-Tensioner is basically a conventional disk tensioner with two simple parts added.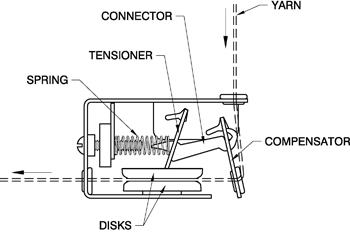 Figure 4: In the DisKN-Tensioner, the compensator and the connector function as the mechanical open-loop control.

The tensioner works in the following fashion: the desired constant tension output is set at the unit or centrally for a whole creel — for example, to 100 grams. If the incoming tension from the yarn package is zero, the full 100 grams are applied to the yarn. However, if the incoming tension from the yarn package is, for example, 60 grams, the compensator, by means of the connector, reduces the set tension by 60 grams to 40 grams. As a result, the combined output tension with the incoming tension of 60 grams and the reduced, added tension of 40 grams still totals 100 grams. This control action can be proven to be mathematically perfect.
Test Results: Conventional Disk Tensioner And DisKN-Tensioner
A comparison of the actual test results using a conventional disk tensioner and the DisKN-Tensioner is shown in Figures 5 and 6. The bottom lines show the input tension, and the top, the output tensions.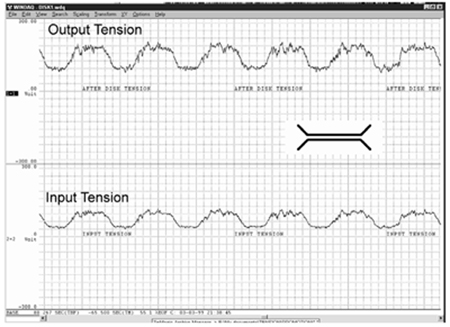 Figure 5: Conventional disk tensioner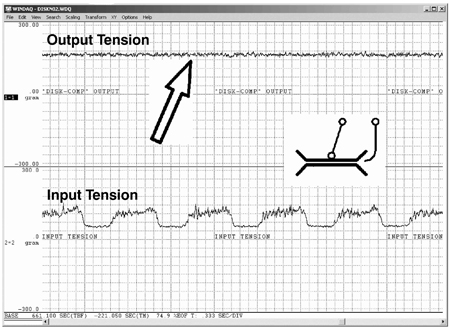 Figure 6: DisKN-Tensioner

Revisiting the savings on equipment costs when using constant output tensioners, if the creels are equipped with DisKN-Tensioners, the additional cost for all four warper lines would be less than $50 x 4 lines x 500 ends = less than $100,000, resulting in net savings of at least $150,000 ($250,000 - $100,000). These savings come in addition to improved quality owing to the following advantages:
consistent density through the whole beam, as the density is not affected by multiple stops;
consistency from beam to beam; and
equal tensioning of all ends.
These or similar economic advantages are valid for most yarn-handling operations such as winding, ball-warping, cabling, two-for-one twisting and others. Because of the inexpensive, reliable nature of this mechanically controlled tensioner, it is profitable to replace existing tensioners with DisKN-Tensioners in most applications.
To achieve higher productivity at lower cost and achieve improved quality at the same time may prove the old proverb wrong. In this case, you really can have your cake and eat it, too.
For more information about the DisKN-Tensioner, contact Kurt Niederer +1-704-806-4453;
swisseng@aol.com
.
---

Kurt Niederer is a Charlotte-based consultant specializing in solutions for the textile and other industries.
---
February 2012
Advertisement