American Textile History Museum Presents Suited For Space
LOWELL, Mass. – December 5, 2012 - The American Textile History Museum in Lowell, Mass., proudly presents Suited for Space, a stunning new exhibition from the Smithsonian Institution's National Air and Space Museum, exploring the "wearable spacecraft" that keep astronauts alive as they travel beyond the bonds of Earth.

The exhibition takes visitors on a remarkable journey through nearly a century of spacesuit design and development, from the earliest high-altitude pressure suits to the iconic white suits of Apollo and Skylab. It runs December 15, 2012 through March 3, 2013.

Suited for Space features large-scale photographs of spacesuits by Smithsonian photographer Mark Avino, as well as new X-ray images by Avino and Ronald Cunningham that provide a unique view of the interiors of the spacesuits. It also features a replica Apollo spacesuit on loan from NASA and objects from the National Air and Space Museum's collection.

Visitors can examine unusual details of every suit, get up close and personal with objects and artifacts, take a photograph "wearing" an Apollo suit – and even walk in Buzz Aldrin's footsteps on the gallery floor.

"Suited for Space is a truly remarkable exhibition exploring how textiles are transformed into a 'wearable spacecraft' capable of keeping astronauts alive and safe as they hurtle through space," says ATHM President Jonathan Stevens. "These spacesuits are a brilliant example of how textiles have transformed the way we live our lives, thanks to the creativity, willingness and determination of innovators who refused to accept failure as an option."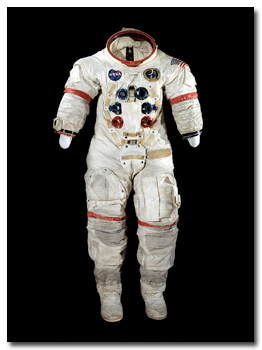 Alan Shepard wore this A7-L extra-vehicular suit on the Apollo 14 mission in 1971. Soft and flexible, these suits could be doffed after launch and stowed until it was time for the lunar walk.
Photo credit: Photo by Mark Avino/Smithsonian's National Air and Space Museum
A Wearable Spacecraft
In 1961, President John F. Kennedy declared: "I believe that this nation should commit itself to achieving the goal, before this decade is out, of landing a man on the Moon and returning him safely to the Earth." To reach that lofty goal, astronauts needed not only a vehicle capable of launching them into space, but also clothing that would keep them alive during the journey. Like a form-fitting personal spacecraft, an astronaut's spacesuit ensures survival in the vacuum of space.
The result of years of research, design, and engineering, the spacesuit made Kennedy's vision a reality. "These spacesuits are, in many ways, the smallest of spacecraft—designed to keep an astronaut alive and well in the most hostile environment imaginable . . ." according to Dr. Allan Needell, curator of Human Space Flight for the Smithsonian National Air and Space Museum in Washington, D.C.
Suited for Space is developed by the Smithsonian Institution Traveling Exhibition Service
(SITES) in collaboration with the Smithsonian's National Air and Space Museum. The national exhibition tour is generously supported by DuPont.
The following free programs are offered in partnership with Suited for Space
January 8, 2013
Grand opening event, featuring free after-hours admission and a talk by Dan Barry, retired NASA astronaut, engineer and scientist who also gained fame as a contestant on TV's Survivor. A veteran of three space flights on the Endeavour and Discovery from 1996 to 2001, Barry logged more than 734 hours in space, including four spacewalks totaling more than 25 hours.
January 26, 2013
"Super Saturday": To Infinity and Beyond. Enjoy free admission and special hands-on activities and demonstrations related to space exploration, including an up-close look at one-of-a-kind working model rockets and the chance to build and launch your own stomp rocket.
February 5, 2013
An evening with Dr. Dava Newman, Professor of Aeronautics and Astronautics and Engineering Systems at MIT, where her team is working to develop a new kind of spacesuit allowing for greater freedom and flexibility: the BioSuit. In 2007, Dr. Newman was named one of the Innovators of the year by Time magazine for the BioSuit, which is designed to enhance astronauts' locomotion and life support when spacewalking.
Visit www.athm.org for times and further information.
December 11, 2012

Source: ATHM
Advertisement