Thies Supplies Complete Dyeing Installation To Park Valley Dyers
Park Valley Dyers Ltd., a United Kingdom-based joint venture (JV) between contract fabrics weaver Camira Fabrics Ltd. and Holmfirth Dyers Ltd., recently installed 10 dyeing machines and a horizontal pressure dryer manufactured by Germany-based Thies GmbH & Co. KG. Thies also designed the layout and auxiliary equipment specifications at the plant, a former dyeing facility that has been recommissioned for that purpose after serving for some years as a caravan storage facility. The new operation is the first dedicated dyeing plant to be installed in the UK in more than 20 years and represents an investment of 2 million British pounds, according to Camira.

"The mill already had the necessary licences and permits in place to run a dyeing operation in respect of water and effluent," said Philip Brearley, managing director, Camira Fabrics. "This is extremely important because in this region the regulations in force are extremely high, however clean the processing may be - and this is a very advanced operation in that respect."

Camira employs 450 people at two weaving facilities — one near the new dyeing plant and one in Lithuania — and weaves bus and train upholstery fabrics for customers such as the Paris Metro, London Underground, Arriva and others. It also supplies fabrics to the office furniture market. Holmfirth has been providing piece-dyeing services for Camira's plain fabrics, and is assisting the company in bringing its yarn package dyeing operation in-house.

According to Thies, the machinery at Park Valley Dyers dyes 25 tons of yarn weekly and is operated by six employees. The plant features an energy-efficient hot water boiler with a recovery unit, and recycles and reuses all water used. The drying machinery uses hot air instead of radio frequency. In addition, the plant recycles all yarn delivery pallets and packaging.

Machinery installed includes a eco-bloc quattro lab sampling unit, and seven horizontal and two vertical eco-bloc yarn-dyeing machines — including two 840-kilogram (kg)-capacity units that can be linked and operated using one control unit. Park Valley has also installed a pharmaceutical standard recipe preparation booth that is enabling the company to achieve a 98-percent right-first-time rate, according to Brearley.

"This plant is very flexible and the bigger machines are modular, with the ability to operate, say two of their four modules, or just load 50 percent of the packages, again with complete reproducibility guaranteed," said Mike Exley of Advanced Dyeing Solutions, which installed the machinery, and provides technical support and service for Thies' UK-based customers. "The package spindles are designed to be completely sealed, whether with full or half loads."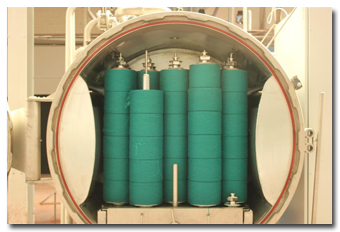 Dyed yarn packages are shown inside one of the Thies eco-bloc units installed at ParkValley Dyers.


August 21, 2012
Advertisement