Combined Technologies Open Up Opportunities
Karl Mayer's IOM-Double technology improves efficiency in denim production.
TW Special Report
In the clothing sector, denim is an indigo blue "evergreen." This tough, twill fabric is normally dyed with C.I. Pigment Blue 66 and C.I. 73000 in the Colour Index, and is produced by processing undyed weft yarns with ring-dyed warp yarns.

Ring dyeing is a characteristic feature of denim production. In the conventional process, the yarns are either processed as a hank, as in rope dyeing; or spread out next to each other and only the sheath is dyed, as in slasher dyeing. The dye is applied in several treatment stages.

This process, which is still used in traditional denim production, is carried out nowadays using the latest machine technology, including machinery offered by Germany-based Karl Mayer Textilmaschinenfabrik GmbH.

In addition to manufacturing warp-knitting machinery for a wide range of applications, the company develops economical and ecologically sound preparatory machines for the weaving sector; and integrates many different, flexible, optional application techniques into the machines to enable the customer to react flexibly to different market requirements.

With regard to denim production, the different chemical methods for finishing the yarns, such as a caustic treatment, dyeing and sizing, offer a huge potential for increasing the efficiency by developing synergistic processes and combining processes within the denim processing chain.



Fig. 1: Processing sequence in slasher-dyeing
Principles: The Rope- And Slasher-Dyeing Processes
Nowadays, different functions and processing steps are integrated into the weaving preparatory processes to increase quality, flexibility and economic viability. Combining the key processes of dyeing and sizing has proved to be very effective. Depending on the make-up of the yarns, the semi-continuous, open-width dyeing/sizing process — known as the slasher-dyeing process
(see Figure 1)
— and the discontinuous hank/rope-dyeing process with subsequent sizing — known as the rope-dyeing process
(see Figure 2)
are used in denim production in practice.
The first step in the slasher-dyeing process involves producing beams by winding 300 to 700 parallel yarns that are fed from packages.
In the next stage, the yarns from eight to 24 beams are then taken off together under a controlled tension and passed through the dyeing and sizing section. At the end of this process, the yarns are wound together onto a weaving beam.
The rope-dyeing process also begins with taking the yarns off packages. In the ball warping process, the individual yarns are combined to form a rope, which is then wound onto a yarn carrier known as the ball. The next stage involves dyeing. In this process, 12 to 36 balls are taken off under a controlled tension, fed to the dyeing section as ropes and subsequently coiled into cans. The ropes are then opened out, and the yarns are wound next to one another onto a beam. From eight to 24 beams run together under a controlled tension through the sizing machine. The final weaving beam is produced by a beaming/winding process.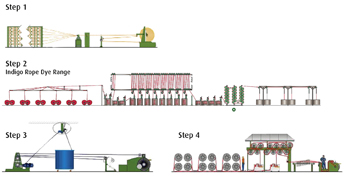 Fig. 2: Processing sequence in rope-dyeing
The IOM-Double Combines The Two Technologies
Both of these dyeing processes have pros and cons (see Table 1), but they do offer the potential for optimization if they are joined together. Karl Mayer has developed its Indig-O-Matic (IOM)-Double technology based on the processing sequences of slasher-dyeing, but the technology offers the productivity advantages of rope-dyeing.
This innovative machine concept has been used successfully in Turkey in particular for some years. Textile companies benefit from maximum production capacities of up to 22 million dyed meters (m), which is the production equivalent of 24 rope-dyeing machines, and at the same time, the energy required for steaming and drying is reduced considerably — by as much as 20 percent. The economic and ecological benefits are the result of improved heat transfer and reduced energy losses.
The interaction between optimum yarn loading, excellent flow-through patterns and a high dye affinity, together with the specific working width in the dyeing section, also results in excellent product quality, according to Karl Mayer. The process guarantees homogeneous dyeing properties as a function of time, and uniform dyeing across the working width — on the right, in the center and on the left. The yarns are also transported and wound without becoming entangled.
High production capacities for yarns having counts of Ne 5-40 can be guaranteed by combining Karl Mayer's latest SMR-2-box sizing system with a second, synchronised beam winding unit.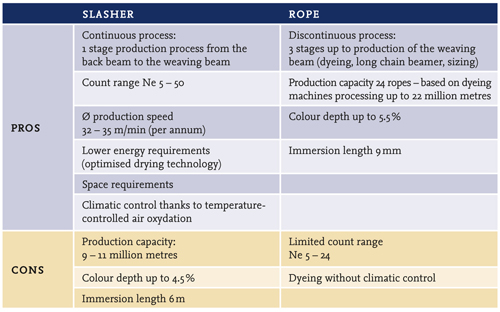 Table 1: Advantages and disadvantages of the slasher- and rope-dyeing processes
The IOM Vario Double Application System
The possibilities of maximizing the potential performance by using the IOM-Double technique can be exploited even more effectively by using the IOM Vario Double application system.
This innovative application system was developed by carrying out detailed, empirical studies of all the slasher- and rope-dyeing machines available on the market, involving techniques from traditional nitrogen dyeing to reactive dyeing. Analyses carried out on-site showed that all the processes take place under the same, specific, usable processing parameters.
In the last few years, the IOM Vario Double application system has proved itself well in practice and has become widely established. Nevertheless, the flow patterns and operating principles of this innovative technology have been optimized recently to ensure that it can be used flexibly and for specific processes for maximum efficiency. In denim production, the IOM Vario Double application system, which offers specific immersion lengths of 1.5 m to 11.5 m, and the appropriate processing times during pretreatment and dyeing enable indigo dye depths of up to 5.5 percent to be achieved. Until now, this could only be achieved using rope-dyeing technology
(See Figure 3)
.
Improved handling, reduced cleaning times, stable liquor baths during machine downtimes owing to an integrated system for raising the immersion roller, and reduced chemicals consumption owing to efficient liquor exchange at the textile material, round off the package of advantages offered by the IOM Vario Double application system.
An indirect heating system is also integrated into this innovative process technology as standard. The energy source can be used optionally as a cooling system and enables a range of dyeing techniques — such as cool indigo and hot reactive, or sulfur and indanthrene dyeing — to be carried out flexibly.
The integration of ancillary systems also enables the processing quality to be improved in terms of dye diffusion and penetration, and material transport. These include a steamer, contact and radiation driers; and harmonized squeeze roller pairs operating at 100 kilonewtons with roller diameters that have been mathematically optimised. The finely adjusted roller combination guarantees uniform transport of the material, and avoids variations in the circumferential speed at the textile material to produce a yarn assembly that has no crossed yarns.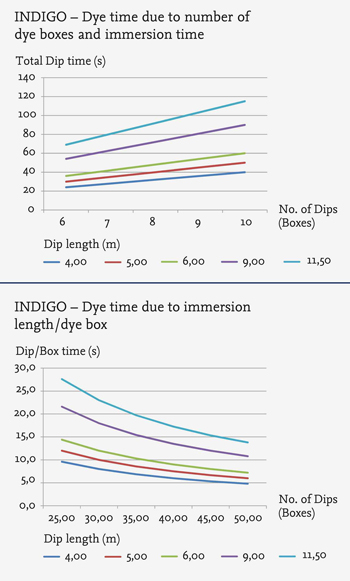 Fig. 3: Dyeing time as a function of the process parameters
Summary
A characteristic feature of denim production is that it is still carried out using traditional methods, but this can now be done using highly innovative technical systems. The result of this modernization is that production can be carried out more efficiently, using fewer resources and more accurately, that is, with better reproducibility.
By developing the IOM Double dyeing and sizing technology, Karl Mayer has made an effective contribution to increasing economic viability and reducing the environmental impact by combining the technologies in a targeted manner.
---
Editor's note: This article is based on information provided by Karl Mayer Textilmaschinenfabrik GmbH.
---
August 28, 2012
Advertisement