Textile Machinery: Lack Of Impetus For 2012 Second Quarter Orders In The Industry
MILAN — July 30, 2012 — Based on an economic survey conducted by ACIMIT, the Association of Italian Textile Machinery Manufacturers, the index of orders for textile machinery during the second quarter of 2012 amounted to 100.7 points (2005=100), for a modest 3% increase compared to the previous quarter. However, a comparison with the same period in 2011 shows a decrease of 22% and remains in decline.

The order intake is falling in Italy, with an index value that is down to 67.9 points, retreating by 23% compared to January-March 2012. The slight recovery that was apparent during the first three months of the year has thus not continued. On foreign markets, the orders index rose 6% with respect to the preceding quarter, for a value of 110.4 points. These figures remain nonetheless inferior to those recorded at the peak achieved during the first quarter of 2011.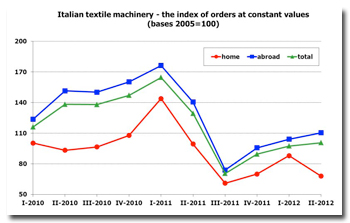 Sandro Salmoiraghi, President of ACIMIT explains, "Sales have largely held their own on the foreign markets. However, the domestic situation is a cause for concern, with a pervasive economic uncertainty that prevents any investment decisions."

Posted on August 14, 2012

Source: ACIMIT
Advertisement