Cotton Pressures Ease
Robert S. Reichard, Economics Editor
T
he huge cotton price runup of the past year may be beginning to peter out. Indeed, the natural fiber quote has already dipped significantly under its recent $2-plus-per-pound peak. Part may be due to general shakiness in global commodity markets. But another important factor could be cotton's improving supply/demand outlook — with the natural fiber's shortages of recent months expected gradually to disappear. New U.S. Department of Agriculture estimates, for example, suggest that, given normal growing conditions, the global cotton crop for the 2011/2012 marketing year will show a solid 9-percent advance. Moreover, even assuming a modest 2- to 3-percent increase in world consumption, this would allow for some replenishment of badly depleted inventories. By the end of the new marketing year, for example, the widely monitored global stock/use ratio should rise to near 40 percent — up 3.5 percentage points from the current year's reading. And with U.S. exports expected to decline, domestic stock/use ratio should show an even bigger increase — jumping from 9.1 percent to 14.5 percent. Even so, these ratios will still remain below levels of a few years back — low enough to keep prices from falling back to anywhere near the low 70-plus-cents-per-pound range of a year ago. Meantime, there's also some encouraging news on the man-made fiber front. While some of these fibers may have edged higher, Uncle Sam's overall synthetic fiber price index has actually slipped below year-ago levels. More important, few near-term boosts are seen as ample capacity and a flattening out in petrochemicals — the fiber's feedstock — combine to put a lid on any significant new hikes.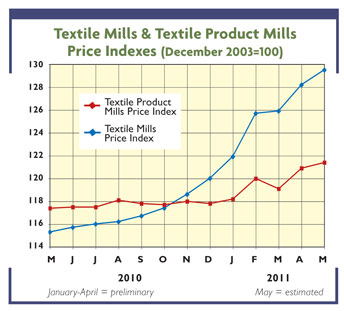 No Wage Woes Either
Nor is the other major textile cost — labor — likely to cause any big new headaches. Once again, latest government statistics provide the details. Hourly wage rates for textile mills making basic products like yarns and fabrics, for example, are currently averaging only about 3 percent above year-ago levels. More important, even this rather small pay increase is being offset by steady worker productivity gains. Indeed, compare the number of workers with production levels at mills making these products - and the resulting productivity increase is actually a bit more than the hourly pay increase. That's pretty convincing evidence that unit labor costs in this key mill sector have actually edged a bit lower over the past year. If similar calculations are made for more highly fabricated mill products like carpets and home furnishings — the year-to-year unit labor cost advance comes to only a few percentage points. In short, the U.S. industry's labor costs are pretty much under control. More significantly, this overall positive cost picture — for fibers as well as labor — should help reduce pressure for continuation of the price hikes that have been posted over the past few months. Also worth noting: The new findings would seem to diminish fears that soaring costs would take a big bite out of 2011 profit and margin levels. To be sure, 2011 earnings should slip a bit. But for most mills, they're likely to remain far above their 2009 recession lows. More about this next month, when new profit projections become available.
The Changing Chinese Picture
Meantime, a just-released study by the Boston Consulting Group confirms the feeling that Chinese manufacturers are beginning to lose some of their heretofore huge labor cost advantage. Analyzing a flood of new data, the firm finds that overall labor costs in that nation — after adjusting for productivity differentials — has jumped to 31 percent of the comparable U.S. level. That's a big 9-percentage-point jump from just five years ago. And the trend is expected to continue. By 2015, for example, this key cost ratio could advance by an even larger 14 percentage points, to near 44 percent. Another projection, this by one of the world's biggest outsourcing companies, Li & Fung Ltd., comes pretty much to the same conclusion — noting that Chinese wages are likely to increase some 80 percent over the next five years. But even without these huge anticipated labor cost increases, there are already signs that Chinese goods aren't the bargain they once were. Textile and apparel imports, at last report, for example, were actually running below year-ago levels. True, one month doesn't make a trend. But it's a sign of change — with more and more U.S. importers shifting or thinking about shifting to other low-cost suppliers. A spokesman for the National Retail Federation sums it up — noting that more companies are telling him that Chinese procurement tags have increased substantially. And while he doesn't expect any immediate wholesale pullout from China, he does see more and more new orders being sourced elsewhere.
June 21, 2011
Advertisement
Related Files:
Click here to view Textile Barometers