A Brightening Outlook
Robert S. Reichard, Economics Editor
The new year is getting off to a rather good start — with much of the impetus provided by the recent better-than-expected holiday season. The continuing brisk customer ordering pace noted by industry executives would seem to confirm this positive trend. So would the Institute for Supply Management, a grassroots group of the nation's top purchasing executives, which continues to report increased textile and apparel activity. Also contributing to a more upbeat scenario are recent Washington steps to stimulate the economy. These exclude extension of jobless benefits, new tax breaks for capital investment, Federal Reserve Board moves to buy more long-term treasury notes, and a temporary reduction in payroll taxes. The latter is especially important, because it lowers the Social Security tax bill by as much as $2,036 for each employee, or more than $4,000 for families with two workers. All these changes suggest that beginning-of-year projections calling for about a 2- to 2.5-percent increase in overall business activity might be a bit too conservative. Not surprising, many economists and business analysts are already making upward adjustments to their 2011 forecasts — putting the 2011 gross domestic product gain as high as 3.5 to 4 percent. Even the nation's top corporate executives are becoming a lot more optimistic, with an impressive four out of five respondents to a recent survey now anticipating sales gains over the next few quarters.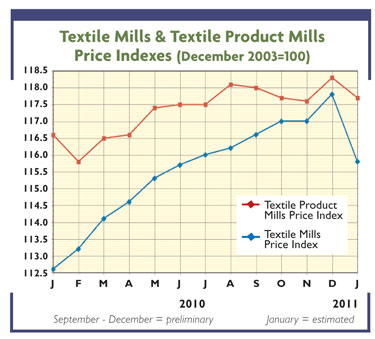 Impact On Employment
An upgraded 2011 would also lead to some improvement in employment and the jobless rate — not only for the general economy but also for the U.S. textile and apparel industries. On the macroeconomic front, for example, economists now estimate that the new business stimulus moves could double the number of new jobs — something which, in turn, could lower the unemployment rate by as much as a full percentage point this year. And by the end of 2012, these new pump-priming efforts could result in as much as another 0.5-percent decline. That would bring the overall unemployment number by late 2012 down to somewhere around 8 percent — not great, but still a lot better than the 10-percent-plus levels reported last year. Equally important, a gradually improving economy should help slow down the long-term textile and apparel employment decline. Indeed, there are already signs that the huge job slide of recent years is pretty much over. During the past 12 months, for example, mill job numbers dropped by only about 1.5 percent. That's far below the average annual percentage decline noted over the previous 10 years. The picture is much the same for apparel, where the job loss over the past year came to less than 1 percent - again, a big improvement over the huge declines of the past decade. To be sure, it would be unrealistic to expect industry job losses to end completely - not with both continuing strong import competition and output-per-worker gains, which continue to reduce the need for labor by some 2 to 3 percent a year. On the other hand,
Textile World
's projections do suggest only very modest 2011 shrinkage — with textile/apparel employment expected to remain within shouting distance of last year's 410,000 total.
Higher Prices Ahead
Meantime, the improving business picture when combined with rising costs is pointing to higher fabric and clothing prices in the months and quarters immediately ahead. On the cost front, for example, cotton quotes, which soared last year, show no signs of any significant weakening — at least not until after mid-year, when reliable estimates of the new cotton crop become available. And elsewhere, man-made fibers are also moving higher — most notably in polyester and rayon — with one rayon user reporting its fiber costs up more than 50 percent from last year. This fiber factor alone virtually guarantees higher asking prices — in marked contrast to the relative stability of the past decade or so. Zeroing in on clothing, one large domestic firm now says that wholesale prices of high-content cotton items could rise 5 percent by late spring, with further hikes likely in the second half. Mill and apparel import prices are also almost certain to move up. That's especially true of incoming shipments from China, where upward pressure will come not only from higher fiber costs but also from a slowly rising yuan and that country's own internal inflation. The latter is officially put at 5 percent but is probably closer to 10 percent, according to many analysts. The resulting rise in Chinese textile and apparel prices will mean fewer import bargains - and smaller increases in our purchases of Chinese textiles and apparel.
February 15, 2011
Related Files:
Click here to view Textile Barometers
Advertisement