The Changing Textile Scene
Robert S. Reichard, Economics Editor
S
kyrocketing cotton — and to a lesser extent, polyester — tags are beginning to have a significant impact on industry prices and profits. On the price score, for example, Uncle Sam's index for basic mill products like yarns and fabrics have moved up about 6 to 7 percent over the last few reported months. And more advances in this key textile yardstick seem inevitable — primarily because it takes considerable time for all the new price increases to percolate through into this government index. As such, by mid-year, the increases here could well be near 10 percent unless cotton costs take an unexpected tumble. Nor are basic mill products alone in posting big new price increases. The picture is pretty much the same for both more highly fabricated mill products and many apparel lines. Ditto, for textile imports, which are also running some 6 to 7 percent ahead of a year ago. Other usually reliable sources are also pretty unanimous in confirming this new across-the-board price surge. A spokesman for Cotton Incorporated is now on record, predicting that price increases should eventually approach the 10-percent mark this year. And a projection by the American Apparel and Footwear Association is only slightly lower — with mid- to high-single-digit price increases anticipated for many items. And, last but not least, there are the new numbers just released by Global Insight, a major U.S. economic consulting firm. Analysts here see even heftier price increases — calling for 2011 textile and apparel tags to soar into the double-digit range. Upshot: 2011 will be an unsettling year for industry prices — ending a period of more than a decade of only fractional annual advances.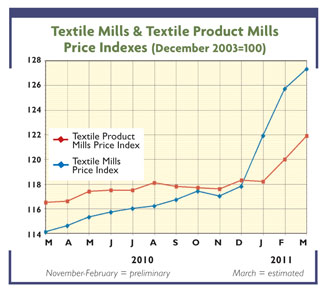 Profits Take A Hit
But, as big as 2011 projected price boosts are expected to be, competitive pressures will prevent them from coming even close to offsetting spiraling fiber costs. As such, profit declines now seem virtually inevitable. Global Insight, for one, feels the 2011 shrinkage could be quite significant. Using its rough approximation of industry earnings — sales less material and labor costs — the economic consulting firm now projects major bottom-line deterioration in all three segments of the industry — basic mill products, more highly fabricated textile items and apparel. Looking at basic textiles first, Global Insight analysts put the 2011 profit drop at more than 30 percent. That's more than enough to erase last year's solid gain. And the pattern is pretty much the same for more highly fabricated mill products. This suggests that in both these sectors, profits this year will fall to their lowest levels in more than a decade. On a somewhat less gloomy note, the expected dip in apparel earnings will be in the somewhat lower 20-percent range — not nearly enough to erase all of this past year's big 50-plus-percent gain. Also on a bit more upbeat note, virtually all mills and factories - despite the cost-price squeeze — will manage to stay in the black. Another positive sign: Industry dollar shipments will continue to show advances this year - thanks to all the new price increases now being superimposed on a relatively steady volume of sales.
Advertisement
A Longer-term Bounceback
In short, the U.S. textile and apparel industries are going to survive this latest round of problems. Indeed, by next year, things should begin to look a lot better. For one, the current fiber cost runup isn't going to last forever. Given expectations of a big 2011-12 marketing year cotton crop, prices of the natural fiber are almost certain to fall back to more normal levels. This, in turn, should result in gradually improving 2012 and 2013 bottom-line performance. In fact, by the latter year, analysts at Global Insight see profits in all three textile/apparel categories staging a strong recovery — with earnings at that time running near or even a bit above this past year's tolerably good, pre-cost-runup levels. A relatively bullish macroeconomic outlook should also help this encouraging profit recovery along. Most economists, for example, now expect 3- to 3.5-percent annual growth over this extended period - enough to nudge overall U.S. consumer demand for mill and clothing products above current levels. American firms will also be helped by some slowdown in the rate of import gains. There are already signs, for example, that incoming shipments from China are being hurt by that nation's rising domestic inflation and a slowly appreciating yuan. The fact that foreign countries have already pretty much captured the United States' most vulnerable markets also suggests import deceleration. Together, these developments point to a 2012-13 halving of last year's near-19-percent import gain.
April 2011
Related Files:
Click here to view Textile Barometers