An Improving Bottom Line
Robert S. Reichard, Economics Editor
New reports confirm that the U.S. domestic textile and apparel industries are doing a bit better on both the earnings and profit margin fronts. Just-released second-quarter data, for example, find overall textile mill after-tax profits holding at the previous quarter's level -- nearly triple the dollar amount prevailing just a year earlier. After-tax margins suggest a similar improving trend, with the second quarter showing a 4-percent rate of return -- more than double the 1.5-percent rate of the previous spring. And the picture is much the same in the apparel sector, where after-tax profits and margins are running well ahead of year-earlier margins. To be sure, all these gains still leave a lot to be desired, as earnings still remain far below those prevailing a few years ago. On the other hand, they do confirm that the U.S. textile and apparel industries are here for the long pull.

Another positive sign for profits: improving demand. Note, for example, that year-to-date shipments of basic mill products have been running 14 percent ahead of comparable 2009 levels -- with sales of more highly fabricated mill products up close to 4 percent above the year-earlier period. Combine this uptick in activity with industry belt-tightening, consolidations, somewhat firmer prices, and new global marketing strategies, and aggregate 2010 profit levels now seem virtually certain to end up well above last year's disappointing levels.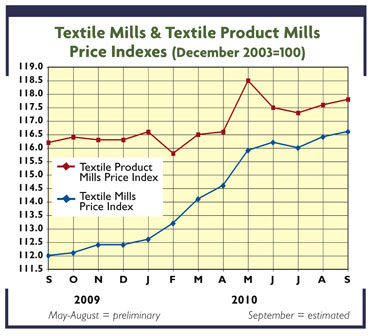 Some Specific Projections
Just how much improvement over 2009? A new, updated forecast from economic consulting firm Global Insight puts some absolute numbers on likely gains, and they're fairly impressive. Using its own rough approximation of profits, the firm sees earnings jumping more than 40 percent this year for mills making fabrics and other basic products. That more than recoups last year's tumble. To be sure, the expected advance in the more highly fabricated textile product area is somewhat less impressive. But even here, totals should manage to offset last year's decline. Even more significantly, these trends are targeted to continue over 2011, when profits for both basic and more highly fabricated mill products are projected to sport average annual advances of about 3 percent and 7 percent, respectively. Go further out into the future, however, and the mill earnings picture painted by Global Insight is a bit more mixed. Over the following three years, from 2012 to 2014, for example, profits are expected to flatten out in the basic mill product sector. But continuing small gains are seen for more highly fabricated items.
The outlook for the downstream apparel sector is also on the mixed side. This year, for example, a solid 28-percent advance is projected -- again enough to recoup most of last year's decline. But after that, things begin to deteriorate, with small declines seen through the four-year period 2011-2014. Indeed, by that last year, all of the current year's anticipated apparel industry profit advance could disappear.
Behind The Profit Trends
The anticipated drop-off in apparel earnings over the long haul is premised on continuing import inroads by China and other nations. The basic problem here is the United States' still-huge labor cost disadvantage vis à vis foreign competitors -- a factor that is being exacerbated by the extreme labor intensiveness of apparel manufacturing. On this last point, for example, labor in the U.S. clothing industry currently accounts for close to 40 percent of each sales dollar. Given this fact of life, it is becoming painfully clear that U.S. clothing makers' production costs will continue to run far above those of foreign competitors. Upshot: further import penetration, which will almost certainly lead to further declines in both domestic activity and profits.
The cost outlook is somewhat better for U.S. textile mills. For one, labor here generally accounts for a far smaller share of the sales dollar -- about 17 to 19 percent on average (less than half the comparable apparel percentage). There are other positive profit factors working for the textile sector, too. Mills have been able to differentiate their offerings, putting more and more emphasis on niche products that both face less foreign competition and offer better returns. Add in the fact that the dollar is expected to continue eroding -- making imports more expensive -- and the long-term mill profit prognosis is fairly reassuring. Indeed, go out 10 years, and Global Insight sees profits for fabricated textile mill products actually expanding about 3 to 3.5 percent a year. And only fractional erosion -- less than 1 percent annually -- is anticipated for the basic mill sector.
October 19, 2010
Advertisement
Related Files:
Download current U.S. textile and economic indicators