Mixed Cost Trends
Robert S. Reichard, Economics Editor
T
here's both bad news and good news on the textile and apparel cost front. On the negative side, it's the disturbing increase in cotton fiber tags. On a more reassuring note, however, labor costs are flat, and perhaps even a bit lower than they were a year ago. Looking at cotton first: Prices of the natural fiber have moved up substantially over the past year. Blame it all on relatively sharp production declines both here and abroad. Global output this year, for example, is expected to be down more than 20 million bales vis-à-vis the peaks of a few years back. To be sure, some modest output increases are anticipated for next year. But they won't be nearly enough to redress the current supply-demand imbalance as consumption continues to outpace new production. Result: a continuing decline both in world stocks and the world stock/use ratio. The latter -- a closely watched market indicator -- is expected to drop down to 42.1 percent by the end of next year. That would be the lowest such ratio in more than 15 years, and significantly under the 57.5-percent and 45.5-percent readings of the past two years. Given such numbers, it would be quite unrealistic to expect any near-term price relief. Best bet: cotton quotes remaining well above the lows of last spring, through year-end and probably well into 2011. On a somewhat rosier note, however, man-made fiber prices have been fairly flat, at least on an overall basis. But here, too, some modest advances may soon be in the offing as higher energy tabs push up the cost of these fibers' key input -- petrochemical feedstocks.
No Labor Cost Pressure
On the other hand, textiles' other major cost drain -- wages -- continues to present few, if any, problems. Over the past 12 months, for example, average hourly mill wages have gone up by only about 3.5 percent. And even this small number overstates real labor pressure. That's because these reported hourly pay hikes continue to be offset, or even more than offset, by continuing productivity gains. This increased worker efficiency can best be estimated by comparing the change in the number of workers over the past year with change in mill output over the same 12-month period. And the results are quite reassuring -- with the industry managing to turn out more mill products with fewer workers. Do the actual math, and the industry's estimated productivity gain over the past year comes to near 4 percent. Adjust the small hourly pay increase noted above for this productivity increase, and the results suggest that labor costs per unit of output have held steady or may even have dropped a bit over the past year. Add in the fact that labor accounts for almost 20 percent of an American mill's sales dollar -- and it implies that aggregate industry costs -- combined labor, material and overhead -- may not have moved up all that much over the past year or so. Moreover, the extent that costs may have moved up could well be offset by somewhat higher price levels. In any event, how all the above impacts bottom-line performance should become clearer next month when new earnings data become available.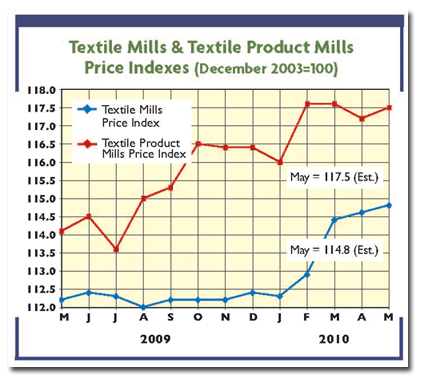 More Thoughts On China
Elsewhere, it's becoming increasingly clear that any relief from a rising yuan won't really make all that much of a difference in slowing down U.S. totals of Chinese textile and apparel imports, which at last report were running better than 20 percent above year-earlier levels. Behind cautious assessment: Any new upward revaluation from now through year-end should be quite modest -- certainly nowhere near the 21-percent jump in the yuan's value that took place during the 2005-2008 period; and increasing evidence suggests that an exchange rate shift would impact only part of an imported product's cost structure. One American clothing executive, for example, figures that much of a Chinese mill's expense goes for cotton, which is priced in dollars -- and therefore not likely to be affected by revaluation. Nor would an exchange rate move make for any significant change in targeted profit levels. Conclusion: Any revaluation-induced price increase in U.S. textile and apparel imports from China would be considerably less than any actual increase in the value of the Chinese yuan. Indeed, based on calculations by the above-noted clothing firm, a 5-percent upward yuan evaluation by year-end would raise the cost of a $10 pair of boy's summer shorts by only 25 cents -- the equivalent of a paltry 2.5-percent increase. That's hardly enough to make for any meaningful change in current import flows. Bottom line: Another hefty increase in textile and apparel imports from China this year seems pretty much inevitable.
June 2010
Advertisement
Related Files:
Download Current US Textile And Economic Indicators.