Carolina Cotton Beats The Odds
Carolina Cotton Works is one of those companies that are even more aggressive when the going gets tough.
Brenda Lloyd
E
stablished in March 1995, Gaffney, S.C.-based Carolina Cotton Works (CCW) is used to change and isn't afraid of it. This year, CCW invested in a new inspection and automated packaging system that is the only one of its kind in North America, as well as a new brine system to service its cotton piece-dyeing process. The dyeing and finishing company has diversified regularly over the past 14 years out of necessity as the textile industry changed. And, the company has made changes that not only reduce costs, but also benefit the environment.
When CCW made its introduction to the textile industry, its offerings were tubular knit goods bleaching and garment dyeing services. Many investments and tough decisions later, CCW has grown to become one of the largest and most flexible commission jet dyers in the United States.
CCW is a family-run business. Page Ashby is co-founder and president. His son Bryan oversees sales and finance, and his other son, Hunter, is plant superintendent. "We weren't around for the glory days," Bryan Ashby said of their company, "and that has required us to have a drive to succeed, because business has never been easy here, especially over the past 10 years. We had to be ready for changes.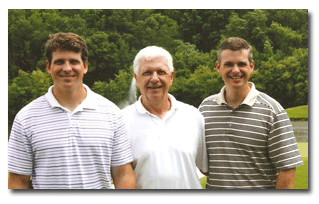 Carolina Cotton Works (CCW) opened for business in March 1995. Co-founder and President Page Ashby (center) is assisted in the business by sons Hunter Ashby, plant superintendent (left); and Bryan Ashby, vice president of sales and CFO (right).
"Currently, business is "very good," Ashby said. "The year 2008 was a transition year for us because, at the end of 2007, the high-end mattress business began to get soft, so we entered other markets, including performance synthetics and spandex blends for apparel." Now, CCW has the skills and equipment for processing these types of fabrics and a loyal base of customers that specialize in these products.
Today CCW's diversified offerings include dyeing cationic dyeable polyester, filament polyester, various modacrylic blends, nylon and, of course, cotton. Basic fabrics for apparel -- including fleece, jerseys, piqués and flame-retardant knits -- go into team sportswear; garments sold in college bookstores; big and tall apparel; ANSI-approved safety apparel; and garments for state and federal institutions, and various branches of the US military. In the non-apparel sector, in addition to mattress ticking, the company dyes and finishes knit and woven fabrics that go into markets including medical, industrial and automotive applications as well.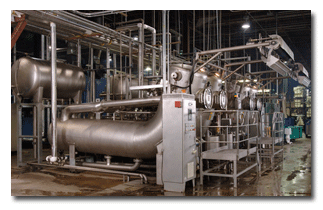 CCW's plant boasts four horizontal dyeing machines, which Bryan Ashby says are excellent for processing sensitive fabrics such as filament polyester, modacrylic blends and other challenging fabric constructions.
Ashby says CCW has expanded its facility and machinery over the years. In 2005, it expanded the building by 16,000 square feet to 80,000 square feet, and added a 40,000-square-foot offsite warehouse about two miles away. It also installed open-width finishing equipment to participate in open-width cotton and synthetics finishing. At that same time, CCW bought two horizontal dyeing machines, and has added two more since then.
The latest innovations installed at CCW are the inspection and automated packaging system, as well as a brine system to support its piece dyeing. The inspection and automated packaging system is capable of defect marking and defect mapping while it is running on an array of fabric styles including knits, wovens, nonwovens, tubular and open-width. It can handle tubular fabrics as narrow as 18 inches and open-width fabrics as wide as 100 inches. CCW's customers receive reporting that identifies in each roll the number and types of defects in specific locations before the roll ships. The rolls are automatically wrapped in film and heat-sealed, rather than packaged in the traditional loose bags. "Not only do the finished rolls look more professional," Ashby said, "our use of film packaging means CCW's customers will send less polyethylene to the landfills."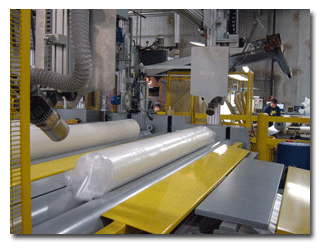 CCW's inspection and automated packaging system has defect-marking and -mapping capabilities, and automatically wraps and heat-seals finished fabric rolls in film to protect them during shipping to its customers.
With the recently installed brine system, salt now can be purchased in tanker load quantities instead of 50-pound bags. This investment makes the job of operating dyeing machines much easier than before and reduces wait time for the cycles. "No longer will we have to be concerned about disposing of hundreds of empty bags each week, but the savings on the salt alone warranted the purchase," Ashby said.
As part of its "green story," CCW burns only natural gas to run its dryers, heat water and make steam. In doing so, CCW emits 30-percent less carbon dioxide into the atmosphere than competitors that use oil to run their facilities. Also, CCW saves energy by reclaiming heat from wastewater to raise the temperature of incoming freshwater going into the process. "It's so much more efficient to capture that energy and put it to good use," Ashby said.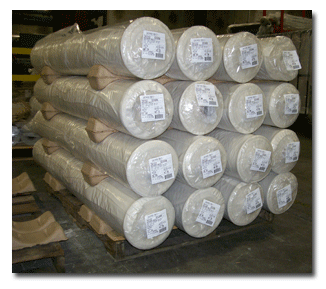 Fabric rolls, heat-sealed in polyethylene film and labeled, are stacked and ready for shipping to a CCW customer.
In early 2009, CCW also changed to high-efficiency fluorescent lighting in its manufacturing facility and office, which not only has brightened the spaces, but also has reduced the company's power bills.
With its diversified level of services offered, CCW serves more active customers today than ever before. The company has enjoyed success by providing value to its customers through quality and innovation. With its recent investments designed to automate while being environmentally responsible, CCW can expect to increase its market share even more.

Editor's Note: Brenda Lloyd is a freelance writer based in Atlanta.
December 2009
Advertisement