Chilling Out With A Cool Cloth
Cool Comfort Technologies' innovative fabric technology provides cooling comfort without the use of chemicals or polymer crystals.
Janet Bealer Rodie, Managing Editor
I
t's a sweltering 96 degrees outside, complete with high humidity. There's no pool nearby to dip into, and going into an air-conditioned environment to find relief is not an option either. A cool drink could provide some refreshment, and a fan could be fashioned out of folded paper or cardboard to move the air around a bit, but it takes both hands to hold the drink and fan yourself, which keeps you from doing what you want or need to be doing out there, if only you could stay comfortable.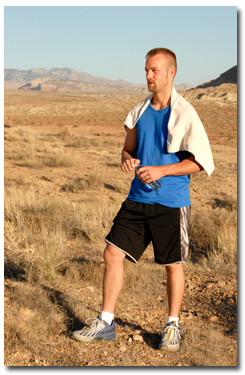 Cool Comfort Technologies towels, sports wraps, blankets and other articles are activated by means of the wearer's perspiration and air movement, or by wetting, wringing out and snapping to set the water molecules in motion and provide a sustained, cool temperature within the fabric to help control the core temperature of the wearer.
A new patent-pending fabric technology developed by Windham, Maine-based Cool Comfort Technologies Inc., formerly 32-Degrees Inc., provides a cooling solution that goes beyond traditional textile moisture-management/evaporative cooling technologies and incorporates no chemical or polymer crystal treatments. The fabric derives its cooling function from its construction, which comprises a multiplicity of fibers including hydrophobic polyester, hydrophilic nylon and a hollow-core polyester fiber, as well as Scranton, Pa.-based Noble Biomaterials Inc.'s X-Static® silver-embedded fiber to provide antistatic and antimicrobial properties. As is typical of many moisture management fabrics, this fabric wicks moisture away from the skin or other object to which it is applied, but instead of allowing it to quickly evaporate on the outer surface, the fabric also absorbs moisture from the outer environment and stores all that moisture within the hollow fibers for several hours. At the same time, the fabric does not feel wet, and when placed on a dry surface, such as a tabletop or even a piece of paper or other fabric, it does not dampen that surface.
Cool Comfort Technologies was established in 2008 by the technology's inventor, Dennis D. Ackroyd -- now COO -- and its co-sponsor, Francis Lei, along with investment partner Joseph Turner and Director of Manufacturing Robert Westergren. Ackroyd spoke with
Textile World
about different methods of activating the cooling function in the fabric and provided a basic understanding of how it works. "In wear-testing by a professional athlete, it was used completely dry, and his perspiration along with the wind activated it and created what he described as 'an ice pack' on his chest," Ackroyd said. "Another method is to activate the fabric by wetting it with water, and wringing it out," he added. "Even hot water will cool down in minutes to provide sustained cooling. By snapping the cloth, you can reactivate it and get the temperature down to 55°F to 65°F for about four hours depending on the conditions. Also, once you wet it, wring it out and snap it, you could put it in the freezer for several minutes, and the fabric will freeze but be pliable like a formable icepack."
The fabric helps control the core temperature of the wearer, Ackroyd explained. "The key is regulating the rate of evaporation by manipulating the polyester and nylon fibers and with varying deniers of different yarns. The yarn wicking the water away from the body is of one denier, and there is a significantly different-denier yarn that prohibits evaporation at a high rate but rather allows a sustained low rate of evaporation. We're using the hollow fiber much like a hose between the back and the face to siphon the water molecules, so they can't escape into the atmosphere but instead get sucked back in and recycled through the fabric as they move back and forth between the fabric's different layers. If the fabric isn't used for a period of time, the water molecules become dormant, so by snapping the cloth, you set the water in motion again and also the cooling. No chemicals, crystals or phase change materials are used - it is all done strictly by finishing the fabric and using the differences between different deniers of polyester and nylon to manipulate the movement of water back and forth."
The fabric may be woven or knitted. The fabric surfaces are sheered and brushed to enhance the moisture movement and absorption, and the outer face can be dyed or printed. End products include scarves and sports wraps, towels, blankets, athletic jerseys, hats and caps, and other products that are offered by Cool Comfort Technologies' channel partners under their own brands.
One such partner is Greenville-based Carolina Manufacturing Inc., also doing business as The Bandanna Company, which offers a line of Cool Cloth woven scarves and sports wraps, making them available to retail businesses. The company also can custom-print these and other scarf, handkerchief and bandanna products according to customer specifications. According to Jim Taylor, sales representative, the products have a soft, plush feel and also are ultraviolet-protective. In addition, he said laundering has no effect on Cool Cloth's efficacy.
Cool Comfort Technologies also is working on a custom fabric construction and finish that is undergoing testing for medical applications including cardio-emergency situations.
"It is knitted on a Pai Lung knitting machine that puts the loop on both sides to create twice the volume in a 160- to 180-grams-per-square-meter fabric that is more pliable and moldable than other fabrics," Ackroyd said. "In cardio-emergencies, you can wrap the patient in a previously frozen blanket to bring down the temperature before arriving at the hospital, and increase the chances of saving a life, plus it's very cost effective and easy to store and use."
Response to the new technology has been "outstanding," Ackroyd said. "We continue to look forward to a growth in this technology, for a broad range of consumer and professional applications."
---
For more information about Cool Comfort Technologies Inc., contact Dennis D. Ackroyd 207-893-1532 Ext. 403; sales@32-degrees.com; www.32-degrees.com.

For more information about Carolina Manufacturing Inc.'s Cool Cloth, contact Terri Whaley, 864-299-0600 Ext. 123; terriw@carolinamfg.com; www.thebandanacompany.com.
August 2009
Advertisement