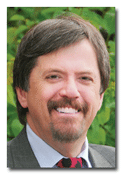 The Rupp Report: Mixed Emotions In Europe
Jürg Rupp, Executive Editor
The global financial crisis is also tracing its footprints in the textile machinery industry, spurring a restructuring of the European textile machinery industry.

Strongest Drop Since World War II For Germany
According to a message from the German Engineering Federation (VDMA) Textile Machinery Association, the textile machinery industry has experienced a downturn in incoming orders. From January to July 2008, 42 percent fewer orders have been registered than in the same period of 2007. For spinning machinery, the drop even totaled 51 percent. Due to this bad order situation, several companies already have had to take drastic measures such as staff reductions and short-time work. Fritz P. Mayer, chairman of VDMA and managing partner of Karl Mayer Textilmaschinenfabrik GmbH, said, "Business with textile machinery always has undergone cyclical fluctuations, but what happens actually is the strongest slump since World War II." VDMA says there is no sign at all that the sector will recover soon. The uncertainty in the finance markets on the one hand and the textile industry's dependence on state subsidies in many parts of the world on the other hand impede a well-founded prognosis.

Totally Export-Oriented Industry
With an export quota of 95 percent, the German textile machinery industry is one of the highest export-oriented branches within the engineering industry. In 2007, the sector exported machinery and accessories worth 3.8 billion euros and saw the most successful year of this decade, so the bar was set high. Between January and July 2008, overall exports declined by 12 percent compared to the same period of the previous year. This comparatively moderate downturn is mainly due to fulfillment of orders placed the year before. However, the particularly dramatic drop of exports to important markets such as Turkey — down by 46 percent — and India — down by 23 percent — show how missing orders affect production and delivery.

The Swiss Also Are Affected
Due to the financial situation, Sultex Ltd., Switzerland, a member of Itema Weaving and part of the Italy-based Itema Group, is planning a reduction of staff at its Swiss production sites in Rüti and Zuchwil. In the past few years, Sultex was restructured and in 2007 was integrated into the newly formed business Itema Weaving. A successful 2007 proved the decisions to be right.

However, in the first half of 2008, some 40 jobs were cut. Due to the ongoing crisis, Sultex is now forced to lay off some 100 workers of a total of 400 in Rüti and Zuchwil. Due to the ongoing crisis, Sultex decided to cut costs even more and will close its office in Rüti and move all remaining staff to Wetzikon, which is only around 10 kilometers away from Rüti. Sultex emphasizes that the production and service of weaving machines is not affected. Restructuring is scheduled to be completed in the first quarter of 2009.

However — Some Good News
There is also positive news from the textile machinery industry: Some weeks ago, Textile World reported about the restructuring of Oerlikon Textile GmbH (See " The Rupp Report: OC Oerlikon Accelerates Restructuring Of Its Textile Machinery Unit," www.TextileWorld.com, Oct. 14, 2008). In times of financial difficulties, most companies, not only those in textile machinery, are cutting all possible costs, not only in staff, but also in research and development. Oerlikon Textile is going the other way round: The company is extending its scholarship program with the well-known German Institute for Textile Technology at RWTH Aachen University (ITA).

The cooperation with ITA was renewed, and the mutual scholarship program will continue for two more years. Targets include practical support and the opportunity to establish early contacts with the textile industry and provide for highly qualified future managers. The extension contract with ITA was signed in October by Dr. Carsten Voigtländer, CEO of Oerlikon Textile.

Voigtländer said the permanent cooperation of science and industry is essential for both partners. "Successful technological companies depend on utilizing all possible innovation potentials in a strategic manner as well as on developing new resources," he said. "Cooperations with universities and talent sponsoring play an important part. So we support talented students for the purpose of commitment and competitive orientation and introduce them early to our industrial requirements and problems." In the scope of the scholarship program, talented students in mechanical engineering, specialization textile technology, are supported in an ideational as well as financial manner. The support is not only theoretical: the highlight of this year's scholarship program was an October excursion to China, including visits to the production plants in Suzhou, Jintang, and Shanghai.

In contradiction to the trends these days, the Swiss company Xorella AG, manufacturer of steamers for the textile industry, is also doing good business in India and Bangladesh. According to Sales Manager Bernhard Koller, mainly spinning mills in these countries are investing in quality to be prepared for the upswing.

Any more good news to tell? Let us know it; write to jrupp@textileworld.com.
Advertisement