Thermo Fisher Introduces New Chiller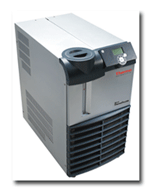 Waltham, Mass.-based Thermo Fisher Scientific Inc. has developed the Thermo Scientific NESLAB ThermoFlex 2500 recirculating chiller, which provides up to 20-percent more cooling than units of comparable size and power, according to Thermo Fisher.
The new chiller features continuous cooling capacities of 2,500 watts and can maintain temperatures from 5°C to 40°C. Its recirculation system comprises an integrated funnel, full-flow filtration and visual fluid level indication. New design elements enable air and fluid filters to be changed while the machine is in operation, eliminating downtime. The chiller may be unpacked and installed by one person in minutes.
January 15, 2008
Advertisement