Changing Import Trends
Robert S. Reichard, Economics Editor
T
he overall trade picture seems to be brightening, with the year-to-date incoming shipments of textiles and apparel dropping 4 percent under comparable 2007 levels. It's something that would seem to suggest that the import share of the overall US market may finally be beginning to peak out - especially since domestic consumption of these products looks to be holding its own. Much of this import slowdown probably can be attributed to the combination of a weak US dollar and the rising costs faced by foreign suppliers. These factors in many instances are forcing overseas producers to post significant price hikes - boosts that, in turn, may be dampening demand for imports. Just how large these advances have been can be gleaned from the latest US import price indexes, which show import quotes on basic textile products like fabrics already running about 6 percent ahead of a year ago. And even highly competitive apparel imports have started inching up - in contrast to domestically produced garments that have tended to remain relatively flat.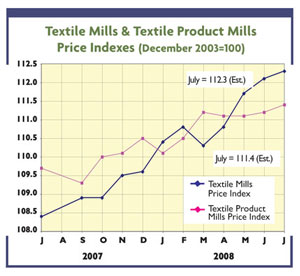 Transportation's Growing Role
Still another possible factor in the slowing import trend: skyrocketing transportation costs. The huge oil run-up of recent months has sent shipping tabs through the roof. The cost of sending a standard 40-foot container from Asia to the East coast, for example, has tripled since 2000, when oil was selling for only $20 per barrel. And the tab could double again if oil edges toward $200 per barrel. In any case, shipping costs are now the equivalent of a 9-percent tariff on goods coming into the United States. Moreover, these higher tabs are impacting hardest on lower-valued goods like textiles and apparel. That's because the cheaper the product, the more likely these shipping expenses will be in the determining the final selling price. These higher costs also may influence where these imports come from. Reason: Since transportation tabs tend to increase with a supplier's distance from the US market, it also makes closer Western hemisphere sources look a lot more attractive. Bottom line: Transportation has suddenly become an increasingly important determinant - one that can no longer be ignored.
Spotlight On China
Imports from China may be impacted most by all of the cost pressures just alluded to. On the monetary front, for example, the Chinese yuan has appreciated by some 20 percent vis-à-vis the dollar since its de facto peg to the US currency ended three years ago. Moreover, this yuan appreciation is expected to continue, with forward trade contracts now pricing in a further yuan rise of 6.3 percent for the next 12 months. And that's not the only reason for rising Beijing cost pressures. Equally significant are recent and continuing boosts in raw material, labor and pollution-control costs. On the latter score, tightening government environmental oversight means that Chinese textile and apparel firms must now pay to dispose of polluting chemicals rather than just dumping them into the local stream. The fact that China is halfway around the globe also tends to make that nation's transportation rates a lot more important. Looking at all these new cost pressures, one US apparel buyer estimates the profit margin on an item like a wool cardigan has dropped to 30 cents - far under the $2 level of a few years back. Bottom line: Chinese prices are moving up. One hint of how much higher: The average advance of all Chinese quotes over recent months is put at near 6 percent - with even heftier hikes posted on some apparel products.
What It All Adds Up To
These changing import determinants, coupled with the likelihood of a somewhat better 2009 economy, should also help slow down the recent sharp domestic industry declines. Plugging all the pertinent variables into the
Textile World
forecast equation, dollar sales of domestic basic textiles like yarns and fabrics are seen slipping only about 4 percent in 2009. That's less than half of
TW
's revised 9-percent tumble now anticipated for the current year. A similar picture is shaping up for the more highly fabricated textile product sector where this year's projected 11-percent drop slows down to only about a 6-percent dip in 2009. True, the trend is still down, but it's a decelerating decline. More important,
TW
expects even smaller slippages of 2 to 3 percent in 2010. To sum up: The US textile industry will survive. And while it may be smaller, it will be leaner and meaner, and will clearly remain a major player in today's increasingly competitive marketplace.
August 2008
Related Files:
Download current US textile and economic indicators.
Advertisement