High Performance FR And Good Dyeability
GE Plastics, FIT team to develop and commercialize fiber based on Ultem engineered thermoplastic resin.
By Janet Bealer Rodie, Associate Editor
U
ltem, a polyetherimide (PEI) resin developed and produced exclusively by Pittsfield, Mass.-based GE Plastics, was originally commercialized in the early 1980s for films and injection-molding into interior parts for transportation applications such as aircraft and automobiles. The engineered thermoplastic polymer offers significant benefits for applications that require flame retardance (FR), as it is inherently flame-resistant and high-heat-resistant, and does not generate toxic smoke. It also retains its strength at high temperatures, and is resistant to a wide range of chemicals, according to the company.
Spurred by regulatory agencies' initiatives to tighten FR requirements for mattresses, the company realized that if Ultem could be processed into a textile fiber, it could offer a very effective solution that would also be more environmentally friendly than solutions that employ halogenated flame retardants and other toxic FR additives. There were processing difficulties to overcome, however, because Ultem is amorphous rather than crystalline, so extrusion of fine fibers such as those preferred for textile and nonwovens applications is difficult. Also, because of its high melt temperature — 375°C to 400°C — it cannot be safely processed using conventional extrusion equipment, which would have to be adjusted to operate at elevated temperatures. Even so, those two properties also make a fiber form of the resin a promising solution for applications where there is exposure to high temperatures that would cause crystalline thermoplastics to lose strength. Such applications would include textiles and nonwovens used for upholstery and vertical walls in aircraft interiors, as well as filtration media, home furnishings and protective clothing.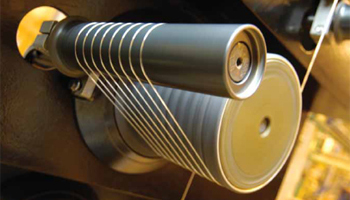 Ultem fiber is shown being processed on GE Plastics' high-temperature melt-spinning pilot line at its Polymer Processing Development Center.

In 2003, GE Plastics began working with a couple of converters to conduct initial research and development of Ultem fibers, with an early focus on making 10-denier-per-filament (dpf) fibers. Those fibers have been evaluated for mattress FR barrier fabric applications and are in compliance with the provisions of California Technical Bulletin (TB) 603, which regulates such fabrics.

About a year and a half ago, GE Plastics and Fiber Innovation Technology Inc. (FIT) — a Johnson City, Tenn.-based specialty man-made fibers manufacturer that has a melt-spinning conversion line capable of handling thermoplastic resins — began working in earnest to develop the fibers, with the goal of reducing the denier size and commercializing the fibers for a range of applications.

FIT now is able to produce up to 10 million pounds per year of 6-dpf staple fiber and multifilament from Ultem 9011, a resin grade developed for fiber applications. The two companies are continuing to collaborate to reduce the size down to 2 dpf for commercial production. At that size, the yarns exhibit a softer hand that makes them suitable for a greater variety of textiles, said Ed Homonoff, a sales representative for FIT.

"There are a lot of very specific processing conditions that have to be developed for this type of material, and it's a very demanding material to process into fiber," Homonoff said. "FIT has spun down to 2 dpf on its pilot line and is working to translate that from the pilot line to its production machine."
According to Youssef Fakhreddine, industry manager, global marketing, GE Plastics, Ultem fibers are easily dyed, which enables expanded color options for upholstery and vertical wall applications compared with what is possible using other high-temperature-resistant and FR fibers. "Depending on the application, it can be solution-dyed, or it can be exhaust-dyed like polyester, using disperse dyes," he said, adding that the amorphous structure helps in the ease of dyeability, and reduces solvent requirements during dyeing.

"Fiber based on GE's Ultem resin offers our customers a unique value proposition — including inherent flame retardance and practically limitless dyeing possibilities — that expands design freedom," said Brad Willingham, president, FIT. "Another benefit of this material is familiarity — it's based on a resin that has been used widely in the transportation industry."

FIT has supplied Ultem multifilament to Slater, S.C.-based JPS Composite Materials Corp., which has begun to produce small quantities of fabric for conducting trials. "We have been successful in converting yarn into fabrics and getting them out in the marketplace for evaluation," said Keith Bendyk, director of technical service, JPS. He added that the company is weaving 100- to 1,000-denier yarns in a range of patterns, styles and blends of Ultem with other fibers.

"We are making hybrid fabrics such as Ultem/E-glass, Ultem/S2 glass and Ultem/Astroquartz. We have also converted fabrics into rigid laminates. JPS is targeting such markets as aerospace, electronics, ballistics, filtration and wind energy," Bendyk continued.
---
For more information about Ultem resin for fiber applications, contact Youssef Fakhreddine, GE Plastics (704) 992-4851; youssef.fakhreddine@ge.com; www.geplastics.com.

For more information about FIT's fibers and yarns based on Ultem resin, contact Ed Homonoff (860) 774-5949; ech@edhomonoff.com.

For more information about JPS's Ultem-based fabrics and composites, contact Landis Carter, vice president, technical service (864) 836-1368, lcarter@jpscompositematerials.com.
---
June 5, 2007
Advertisement