Some Positive News
By Robert S. Reichard, Economics Editor
E arly 2006 performance suggests the current year may not turn out all that badly. Pluses would have to include: the continuing absence of any meaningful upward cost pressures; industry prices that for the most part have been holding up tolerably well; and the new round of trade talks aimed at putting a lid on further Chinese import gains.

Looking at mill production costs first: Hourly pay increases for firms making basic mill products such as yarns and fabrics have advanced at less than a 2-percent annual rate over the past 12 months. And the picture for more highly fabricated textile products such as home furnishings and carpets indicates only a slightly higher 2.5 percent rate of increase. More importantly, virtually all of these modest labor cost hikes are being offset by continuing productivity gains. The implication is that unit labor costs in these key textile sectors have remained pretty much unchanged. Moreover, there is little to suggest these efficiency increases won't continue through the year and into 2007 and 2008 as well.

Raw material costs would also seem to present few problems. True, cotton is up a few cents from last year, but tags have been backing and filling around current levels for months now — an indication of no real supply/demand imbalances. In the meantime, feedstocks have backed off from recent peaks. One sign of this: Price averages in that area have actually shown a fractional decline from past months' averages.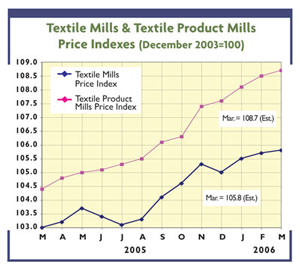 Prices Fairly Buoyant, Too
Equally significant for overall industry health is that textile prices haven't been all that weak, despite earlier talk of a spiraling decline because of Chinese imports. Indeed, on the basic mill front, average quotes are now running better than 3 percent above levels prevailing just a year ago (See chart). Zero in on individual subsectors such as greige goods and finished fabrics, and the gains are equally impressive — 4.5 and 2.5 percent, respectively. The average quote for textile mill products can't be faulted either — up about 4.5 percent from just one year ago. But much of this latter advance is traceable to the rug and carpet sector, which shows an impressive close-to-9-percent increase. On the other hand, household furnishings have remained pretty much unchanged over this period.

To sum it up, these somewhat improved price levels, when combined with continuing cost containment and domestic production levels that really haven't fallen that much, suggest mill profits and margins will remain positive through the year and probably into 2007 as well.
Possible Import Relief
There are also a few signs of at least a modest slowdown in incoming Chinese shipments. For one, the United States seems to be becoming a bit more effective in intercepting illegal imports. Thus, according to the US Customs and Border Protection Agency (CBP), an impressive 39 seizures were made during February, including those involving both illegal transshipments and the misdescriptions of merchandise to avoid quotas.

More importantly, there's now also hope that this month's meetings between Washington and Beijing officials on restraining Chinese imports will bear some fruit. Beijing statements, for example, have suggested the Chinese might be willing to make some modest adjustments. At this stage of the game, however, it's hard to see any major policy shifts — despite a growing cry for such changes on the part of many Washington officials.

Meanwhile, further ammunition for action comes from the Washington-based National Council of Textile Organizations (NCTO). NCTO points out that without new moves, China will capture a huge 70 percent of all US textile and apparel imports within 15 months. And with good reason: NCTO figures Beijing quotes dropped an eye-opening 34 percent following the initial removal of quotas, and these prices are still running close to 10 percent under prevailing rest-of-the-world levels.
Statistical Note
New import price data are now being made available by Uncle Sam's Bureau of Labor Statistics (BLS). Specifically, separate price indexes are now being published monthly for both basic textile mills and the textile mill product sector — replacing the old single, all-inclusive import price yardstick. The new series may be found each month in the BLS import/export price release. Also, sometime early next year, when sufficient historical data on the new series are available, Textile World plans to add these models to its regular "Textile Barometers" table — thus permitting a direct comparison of current domestic and import textile price trends.
April 2006

Related Files:
Download Current US Textile and Economic Indicators.
Advertisement